SNATCH THIEF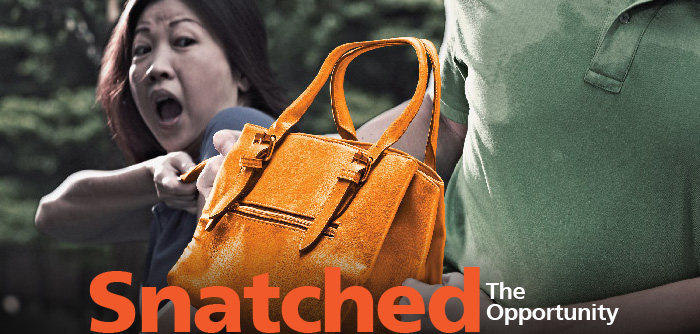 HOW IT CAN HAPPEN
Approaching victim on the pretext of striking up a conversation or seeking assistance.
Snatching the handbag from behind the victim.
Soiling victim's clothing and offering to clean dirt stains on it.
Telling victim that his money has dropped on the floor.
---
PREVENTIVE MEASURES
Avoid wearing lots of jewellery and carrying large sums of cash;
Carry your sling bag in front of you, or clasp it firmly under your arm;
Avoid walking through dimly lit, quiet and secluded places;
Carry a shrill alarm to sound for help;
When returning home alone or late at night, arrange for a family member or trusted friend to escort you home; and
If you suspect that you are being followed, remain calm. Proceed to a crowded area or call the Police for assistance.
---
IF YOU ARE TAKING THE LIFT
Avoid taking the lift with a stranger. Let the stranger take the lift and wait for the next one; and
When entering the lift alone, stay close to the lift button panel. Press "Door Open" and step out immediately when a stranger rushes in as the lift door is closing.
If you are confronted by a thief, stay calm and take note of his or her appearance, attire, height, or any other distinctive physical features if possible.
Call the Police as soon as possible so that our officers can reach the location quickly to assist you.